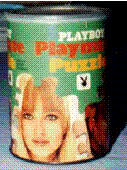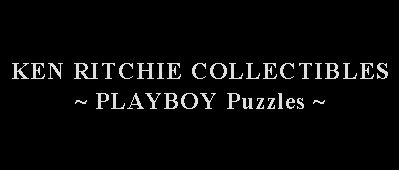 Puzzles are all in excellent condition, cans are better than average unless otherwise noted;
All open puzzles come with one picture of the finished puzzle. Sealed puzzles have 2 unless noted.
Small can puzzles measure approximately 11" wide x 24" tall when assembled - basically the same size as the magazine Centerfold
Large can puzzles measure approximately 14" wide x 30" tall when assembled.
The 1320 series puzzles have 324 pieces - 27 pieces across x 12 pieces high
The AP & APO series puzzles have 297 pieces - 27 pieces across x 11 pieces high
The Large can puzzles have 510 pieces although the can says they contain 500 pieces.
SMALL CAN PUZZLES
CODE #
PLAYMATE
OPEN
SEALED
CAN ONLY
PIC ONLY
1320
CONNIE KRESKI (1/68)
***
***
***
***
1320
LORRIE MENCONI (2/69)
***
***
***
***
1320
SHAY KNUTH (9/69)
***
***
***
***
1320
MAJKEN HAUGEDAL (10/68)
***
***
10.00
***
1320 (AP102)
CONNIE KRESKI (1/68)
***
***
***
***
1320 (AP 103)
LORRIE MENCONI (2/69)
30.00
***
***
***
1320 (AP 104)
SHAY KNUTH (9/69)
***
***
***
***
1320 (AP 105)
MAJKEN HAUGEDAL (10/68)
***
***
***
***
AP 107
DEDE LIND (8/67)
***
***
10.00
***
AP 108
GWEN WONG (4/67)
25.00
(No pic)
50.00
***
***
AP 109
PAIGE YOUNG (11/68)
25.00
***
10.00
5.00
AP 110
CYNTHIA MYERS (12/68)
***
***
***
***
AP 112
COLLINSON TWINS (10/70)
***
***
***
***
AP 113
JEAN BELL (10/69)
***
***
10.00
***
AP 114
LESLIE BIANCHINI (1/69)
***
***
10.00
***
AP 115
JENNIFER LIANO (5/70)
25.00
***
10.00
***
AP 117
BRITT FREDRIKSEN (6/68)
***
***
10.00
10.00
AP 118
AVIS MILLER (11/70)
***
50.00
10.00
***
AP 119
CRYSTAL SMITH (9/71)
15.00
(a little rough)
(no label on can)
***
***
***
AP 120
LEIKO ENGLISH (6/71)
***
***
***
***
AP 121
DEANNA BAKER (5/72)
***
***
***
***
APO 122
KAREN CHRISTY (12/71)
***
***
***
10.00
APO 123
BONNIE LARGE (3/73)
***
***
***
***
APO 124
MARTHA SMITH (7/73)
***
***
10.00
10.00
APO 130
CYNDI WOOD (2/73)
***
***
***
***
APO 131
CAROL O'NEIL (7/72)
***
***
10.00
***
APO 132
BARBARA HILLARY (4/70)
***
***
***
10.00
(Unfolded)
APO 133
VICKI PETERS (4/72)
***
***
***
***
LARGE CAN PUZZLES
CODE #
PLAYMATE
OPEN
SEALED
AP 152
CLAUDIA JENNINGS (11/69)
***
***
AP 153
LIV LINDELAND (1/71)
***
***
AP 154
SHARON CLARK (8/70)
***
***
AP 155
ANGELA DORIAN (9/67)
***
***
OTHER PUZZLES
ORDER
HOME PAGE
Page updated July 23 2018